Your 15-Step Winter Caravan Checklist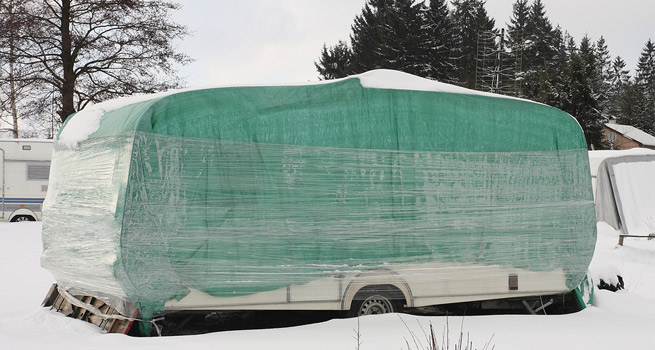 It is probably safe to say that the summer is behind us and for the next few months, the beach is off limits. If you're the proud owner of a caravan or motorhome, it may be time to say goodbye for the winter.
But what do you do with your prized possession? You want to be sure that it is safe and ready to go when called upon. Before you let your caravan enter hibernation mode, there are a few things you can do to help it through the harsh season.
1. Choose a Place to Keep Your Vehicle
If you're not keeping your vehicle on your own property, you'll need to decide where it's going to spend the next few months. Pick out a safe place. Either one you know is secure, or a member of the Caravan Storage Site Owners' Association.
The CaSSOA work towards keeping caravans secure. You'll easily be able to find your closest member using their website.
2. Consider Static Positioning
If you've decided on where your motor is going to live for the next while, take a simple look around and check for things like trees with falling branches, uneven grounds and anything else that can affect your vehicle.
If you're satisfied that there isn't a massive problem, then nothing else is required. If not, you'll probably have to reconsider your approach.
3. Check the Gas
Make sure that your gas supplies are removed. You don't want them to get frozen. Take any cylinders away and store them in a sensible place until you need them.
Remember to keep them in an upright position, away from ignition sources and in a well-ventilated area.
4. Let it Breathe
Let air inside so the climate isn't unbearable when you get back in. It's easily enough done simply by leaving any vents open. You can also combat condensation whilst you're at it.
You can buy cheap dehumidifier products in plastic tubs but they will need throwing out when done with. Only use these if you're revisiting your vehicle over the winter. Alternatively, you can leave bowls with a little salt in them around the caravan.
5. Look for Window Quality
Take a look at your windows, checking for anything that needs fixing. The main thing to keep an eye out for is any seals that have come loose, fallen off or obviously need replacing.
If you find anything, it's probably best to get it sorted right away. The cold freeze, followed by a big thaw can further damage any issues.
6. Remove Batteries if Necessary
If your vehicle battery isn't part of your alarm system, take it out and keep it in a dry place over the winter. You might even want to take batteries out of clocks and the like to preserve their shelf life.
Charge batteries as you see fit and make sure they're ready to go when you are. Just make sure you don't forget you've taken the 12V battery out before trying to go and explore the countryside!
7. Sort out Your Water
Water is, of course, liable to freeze when the temperature drops to zero. Take out water filters to avoid damage and put the plug in the sink and shower. This will help units to stay healthy and not have to deal with freezes.
There are products out there that can drain water completely. These may be worth investing in if you're majorly concerned.
8. Secure Electrics
Electrics should be turned off anyway but have a second look just to make sure. This is especially important if you've driven to a storage site.
Your caravan to tow socket should be cleaned. You can then use a bit of petroleum jelly to coat it and safeguard against water damage.
9. Flush the Toilet
Your toilet can be affected by the cold but an empty and flush of the waste tank should be the perfect solution. An extra trick is to splash a little olive oil on opening blades and leave them open.
This will allow for maximum preservation of your lavatory.
10. Clear the Fridge
Not a fun task but a vital one if you don't want to walk into a cloud of stink when your open the doors. Clear out the fridge and turn it off.
Clean it out too, the same way you would do in the kitchen. It's much better than returning to a horrible, gone-off stench.
11. Take Out Your Furnishings
There are two benefits to removing your cushions for the winter. The first one is that they can become cold. Older, more worn upholstery may deteriorate further.
Secondly, a motorhome without furnishings is less attractive to thieves.
12. Clean Your Awning
If you have an awning or canopy that you use with your vehicle, clean it. There are a number of products readily available depending on the material of your covering.
Do your best to get rid of stains and spots and store it in a dry space when finished.
13. Ensure Your Protective Cover Is Suitable
If you choose to place a cover over your caravan or motorhome, check the properties. Primarily, you want to be making sure that it is made from breathable material.
If it isn't, it may be accommodating for condensation and mould growth. This can affect both the cover and your vehicle.
14. Clean It Up
You won't find many better opportunities to give your vehicle a really good clean. Take the chance to keep everything in order.
There's also the great benefit of being able to step into a tidy environment when it comes to revisiting the vehicle.
15. Enhance Security
If your caravan is going to be laying in one spot for a few months, you'll want it to be as secure as possible. Remove anything of value including electrics and install products such as locks and alarms.
Even things as simple as stickers from the manufacturer of these products can be huge, visual deterrents for thieves and intruders.
See You on the Other Side
With a little bit of thought and know-how, your motorhome can rest easy during the coldest part of the year. If you've done everything right, you can save money on repairs and maintenance and have a beautiful vehicle waiting for you on the other side of winter.
Everybody here at Regal Furnishing wishes you luck!
Videos of our work