The Biggest Elements of Motorhome Interiors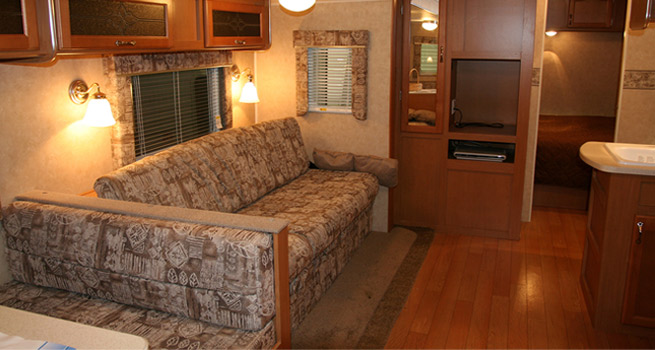 Not many vehicles can claim to beat the grandeur of motorhome interiors. Wherever you're heading off to and whatever the nature of your trip, an inviting area to relax or have fun can make any good excursion a great one.
Creating the perfect design scheme is heavily reliant on exactly what you want. It is probably a good idea though to ensure that the fundamental basics of motorhome interiors are in place first and foremost.
Upholstery
The perfect place to start is with your motorhome upholstery. If your vehicle is a little on the old side, your seats and cushions may be a bit worn or dated. In such a case, reupholstery can bring you right back up to date.
Whether you want to recreate the original appearance or go in a brand new direction, upholstery will restore the comfort back to your seats. Remember to check the driver and passenger seats too. Even rather small changes like replacement cushions and zips can change the whole dynamic of your motorhome.
Furniture
There's no mistaking the classic allure of furniture. Tables and chairs make eating, playing and relaxing a cosy experience. Whether it's sitting down for a family meal or getting out one of your favourite board games, the right furniture makes everything that much more enjoyable.
If yours doesn't complement your design scheme or you simply fancy a change, new furniture can make the world of difference. As with domestic furniture, be sure that it suits its intended purposes, as well as looks great in its new home.
Mattresses
On any long journey you're bound to get tired. Exciting days and chilled out evenings make for a perfect day but don't forget about night time. Mattresses play a huge role in quality of sleep and this applies to motorhomes, too.
Although perhaps less of an aesthetic element, there's still no denying how important having a decent sleeping surface really is. This is especially true if you've got a big drive ahead the next day.
As they're susceptible to wear and tears, lumps and bumps and even the odd spring sticking out, it's always worth checking yours. If it turns out that your mattress needs replacing it's probably best to do it right away. You could also purchase a mattress topper to make it more comfortable.
Wallpaper
Wallpaper can make or break all motorhome interiors. As stunning and delightful as it may look when it's first applied, it isn't invulnerable to damage with varying temperatures being the biggest culprit. There's also the unavoidable issue of wear and tear as well as time rendering it outdated.
Many motorhome owners have suggested using vinyl wallpaper as it is significantly more water-resistant than standard paper. If you're having damp troubles, you might have to replace the boards themselves. You will be able to find new boards with vinyl paper already on though.
Blinds and Curtains
Not just for keeping out light or protecting privacy, blinds and curtains can also be huge influences on the look and feel of your vehicle. Motorhome interiors can be enhanced with the right window coverings.
If you want curtains, there is almost no limit to what you can do. Different colours, patterns and designs are available so there's bound to be something that you love out there. Whether you match or contrast with your upholstery is completely up to you.
Blinds are a little different as there aren't nearly as many variations. The popular majority are aluminium, venetian blinds. You don't have to go for this style but they are tough, durable and look great when implemented well.
Doors
There are a few motorhome owners that will never even consider changing internal doors. Doing so however can have great effect and complement design beautifully.
From wonderful oak to hard-wearing MDF and panel to glazed options, you'll easily be able to get your hands on the ideal doors for your vehicle.
And Enjoy
With all of this being said, motorhome interiors are still extremely subjective. Whatever your individual tastes or style, though, there's never a bad time to check if you can make your vehicle feel like home.
The open road with new leisure vehicle upholstery or anything else is truly an incredible experience. A renewed sense of freedom comes along with it making every moment thoroughly satisfying.
Videos of our work