Give Your Caravan a Makeover with New Upholstery Fabric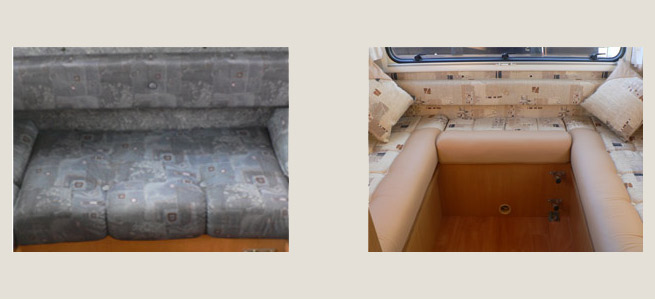 A caravan can be a family portal to an unlimited number of getaways and memories. It can lead you off into the sunset looking forward to the excitement that is to be had over the upcoming week or so. On the flip side, a caravan can also be a throwback to yesteryear, complete with outdated and no longer loved cushions.
It'd be a crying shame to let this once majestic vehicle sit and rot when there are steps that can be taken to breathe a new lease of life into the old beauty. Simply by implementing new caravan upholstery fabric, you can be free again to experience the wonders of travelling the country without having to worry about accommodation.
Grand New Design Schemes
Perhaps one of the biggest criticisms of caravans, particularly older ones, is that they can sometimes lack colour, making them almost impersonal. Admittedly, the sometimes, plain and bland hues and tones used to make the cushions and colour schemes don't exactly scream excitement.
Caravan upholstery fabric comes in a fantastic range of designs, styles and colours and there is sure to be a solution to suit any taste. Whether you're after a vibrant and bright glow for your motor home, or a floral pattern to showcase your love of plants, you can achieve this and reinvent your leisure vehicle at the same time.
Updating and Modernising
Another argument against the plain greys of upholstery is that it can sometimes give off an impression of being outdated and archaic. It may be true that many more people are flocking off on a plane to spend their summer abroad but that doesn't take away from the fact that staying at home is up there with the best holidaying choices.
As such, efforts can be made to modernise motorhomes and bring them up to date with current trends and new caravan upholstery fabric is the perfect place to start. Again, the great selection of colours and designs can play a part here as there is more than one option to help restore and rejuvenate your tired looking cushions and upholstery.
Bringing Your Caravan Upholstery Back to Life
Of course, a brand new design, colour or style scheme isn't for everyone. Chances are you may love you motor home just the way it is – it merely needs a bit of touching up. That's certainly not a problem as far as caravan upholstery fabric is concerned either.
Caravans and motorhomes can once again witness the most glorious of days gone by simply by selecting the exact same design scheme. The difference being, the newly installed cushions and fabric will be in the best condition possible, ready for new adventures.
Caravan Upholstery by Regal Furnishing
The team here at Regal Furnishing have been professionally supplying and implementing caravan upholstery fabric since 1997. Our aim is to provide the best possible service for you and leave you smiling by the end of it.
We are so determined to give you the best experience, we can finish your project in as little as one day, supplying complimentary power and water whilst you stay overnight, ready for a big day of work on your vehicle.
Videos of our work