Must-Have Caravan Accessories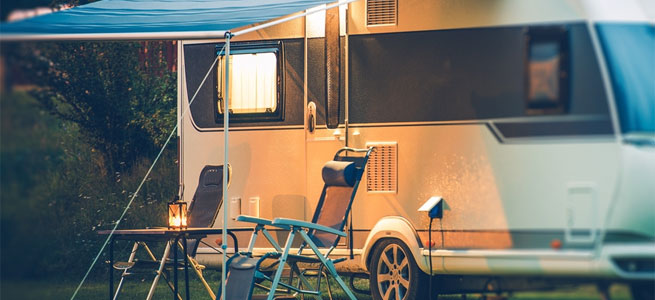 There's no better feeling than enjoying a trip in your new, or newly refurbished, motorhome. But no caravan is complete without a few final touches to truly make it into a home. At Regal Furnishing, we are experts when it comes to all things caravans, so the team have compiled a list of the ultimate caravan accessories that no motorhome should be without.
Water carrier
Essential for everything from making those much-needed cups of tea, to staying clean, a water carrier is an absolute must-have for any caravan trip big or small.
Waste container
Where a water carrier is necessary, so is a waste container. After all, where is that water going to go once you're done with it? As a caravan isn't connected to mains drainage systems, everything that comes out of the vehicle must be directed somewhere. Luckily caravan engineers have come up with a solution in the form of the waste container. This container catches all waste water from your vehicle which can then be disposed of at an allocated location on your campsite.
Electricity cable
You don't spend hours behind the wheel only to be sat in the darkness once you arrive at your destination. But, to illuminate your caravan and create a cosy atmosphere you will need an electricity cable. This hook-up cable can then be connected to the mains point on the campsite to provide power to your caravan.
For those of you who want to enjoy all your home comforts, an electricity cable will even allow you to power a television!
Gas bottle
Gas is essential for powering the fridge, oven and heating- all important parts of an enjoyable caravan holiday. Gas bottles can be easily acquired and will ensure that you can enjoy all the functions of your caravan.
Towing mirrors
No caravan is complete without towing mirrors. The law requires that you have mirrors which allow you to see clearly an area of 4 metres wide from the side of your caravan and 20 metres behind the driver's seat. So, if you're driving your caravan to your destination this accessory should be top of your list.
Caravan step
The last thing you want is to be struggling to get into your motorhome, which is where a caravan step comes in. Caravans are naturally rather high from the ground which can make both entering and exiting your vehicle a difficult task, particularly for holidayers who may have mobility concerns. Bringing a small step along will ensure nobody struggles to get into the vehicle.
Camel's feet
Those of you who are newer to the world of caravanning will likely be thinking what on earth are camel's feet. These handy accessories are plastic pads designed to be placed on your stays to make your caravan more stable on grass.
Kettle
How else are you going to make that all important first cup of tea when you arrive? A kettle will also be useful in allowing you to quickly boil water for a variety of functions such as cooking and sanitising items like baby bottles.
Camping chair
There's nothing quite like arriving at your holiday destination, unpacking your camping chair and sitting down to recover from your journey whilst taking in your surroundings. Easy to pack and carry, a camping chair will make you a hit amongst fellow travellers and have them all eager to use your seat.
Before you head to the shops to pick up your perfect caravan accessories, you'll want to make sure that your vehicle's interiors are up to scratch. Here at Regal Furnishing we have been transforming leisure vehicles since 1997. To discuss your needs and find out how we could help please don't hesitate to get in touch. Simply give us a call on 01559 329 988 and a member of our friendly and professional team will be more than happy to help.
Videos of our work