Security and Your Motorhome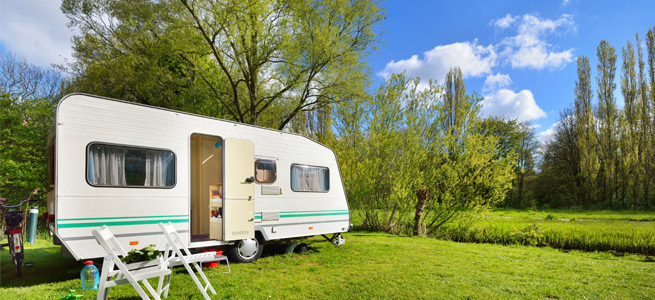 If you've just had motorhome upholstery work completed on your caravan, you may understandably be excited to get out on the road and test it out. In all likelihood, this process has set you back a decent bit of money and time but in a lot of cases, security is not given too much thought.
Whilst campervan break-ins aren't considered too common, they do of course happen from time to time and you'll want to be sure that you don't fall victim to theft, loss or damage, especially given the cost of the vehicle itself and the contents inside.
Lock It Up
Many cases of theft and damage happen when campervans and caravans are left unattended, such as owners being away and the vehicle being left parked outside.
Of course the simplest method of securing your leisure vehicle is the good, old-fashioned lock and key. That starts with ensuring that your caravan's keys are protected, just like you would with your house keys so make sure that they are not left in plain sight for potential intruders to simply help themselves.
If you have recently had your motorhome upholstery redesigned or refilled, chances are you may actually be holidaying in your vehicle. That doesn't necessarily mean that you are safe from danger though as you probably won't be keeping a round-the-clock eye on your valuable possessions inside and it's unlikely you'll be able to carry everything on you.
As simple as it may sound, don't keep anything of value on view, through windows or otherwise, when leaving the caravan – you don't want to make yourself an easy target. You may feel safer investing in a secure safe though, preferably one that is attached to your leisure vehicle so it can't be picked up and carried out.
Keep Potential Entrances Secure
Burglars don't always need keys to gain access to your property. It's not uncommon to walk through a camper site on a warm day and see doors, windows and skylights wide open, whether the owners are in or not.
This can present the easiest of opportunities for intruders and requires very little effort to nip and in and steal whatever they fancy. If you have locks or restrictors on your windows you'd probably be better off to ensure that they are in use when you're away from your vehicle. If not, it's a good idea to keep all potential entrances securely shut and locked, regardless of the temperature.
Update and Boost Your Security
For added peace of mind, you can always improve on the security features that your vehicle currently has. Even the most modern of campervans has room for protection updates.
Some of these can be highly visible too, informing thieves that they have no chance of hijacking your van. Wheel, steering and gear clamps are highly distinguishable deterrents that allow for almost zero movement without being unlocked.
Your door locks, as strong and sturdy as they may be, can be replaced with deadlocks offering tighter security and safety. You can also add extra locks and mechanisms to all doors of your leisure vehicle.
Older caravans may not be equipped with the now almost standard Thatcham alarms and immobilisers. You can get these fitted, although they may be a little pricey. It could perhaps be worth it in the long run though.
As well as alarms and immobilisers, tracking devices are also useful as yourself and any relevant authorities will be able to locate your vehicle in the event it is stolen.
Updating these features can undoubtedly reduce the chances of break-ins and theft. Don't be afraid to showcase them either. Many security features come with window stickers that you can put up and show people that your van is secured by strong deterrent devices.
Do Your Homework
A little bit of research can go a long way, especially in terms of insurance. Ensuring that you have the right level of cover for what you have can avoid mishaps if worst does come to the worst.
With all of this being said, security needn't have to leave you worrying during your holiday. It is a time to relax safe in the knowledge that you're away from the troubles of life. As long as everything is in place, you should be free to enjoy your motorhome upholstery, the surrounding area and hopefully the weather.
Videos of our work